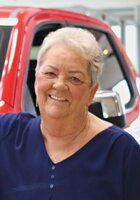 Charlotte Ann Munroe
THORBURN – Charlotte Ann Munroe, 69, Thorburn, passed away Monday, February 20, 2023 at home after a brief illness, surrounded by the love of her family.
Born in New Glasgow, she was a daughter of the late William Herbert "Bill" and Catherine Eliza "Kay" (Smith) MacDonald. Charlotte was a faithful member of the former St. Alban's Anglican Church, Thorburn and recently, St. Bees' Anglican Church, Westville where she served as a Warden. She was employed with the local automobile industry for the past 50 years and was currently Controller with Herron GM, New Glasgow. Charlotte enjoyed spending time with her family, especially her grandchildren and honorary grandchildren (who called her "nanny") at the cottages in Garden of Eden and Lochaber. She was always "down" to go fishing, going for drives and Wednesday night crib. Every Sunday she faithfully attended church, followed by coffee with her church friends and a visit with the buffalo in Linacy on the way home. Charlotte will be remembered as a selfless lady who enjoyed stirring conversation and possessed enduring love for her family.
Surviving are her daughter, Crystal (Todd) Snell, Thorburn; son, Lance (Shalene) Munroe, Thorburn; grandchildren, Ethan (Emma), Eliza, Caleb and Chloe, Thorburn; siblings, Finley (Vanda) MacDonald, Waterside; Aldena MacDonald (Bill Geddes), Union Center; Ricky (Monique) MacDonald, Sylvester; Doris (Donald) Patterson, Thorburn; aunts, Elda Watters, Coalburn; Doris Sloan, Stellarton; Lottie Flavin, Mississauga, Ont.; uncle, Everett Smith, MacLellan's Brook; sisters-in-law, Dolly Walsh (Laurie Williams), Egerton; Linda Ferguson, Halifax; brothers-in-law, Donald Munroe, Chance Harbour; Clifford Munroe, Stellarton; many nieces, nephews and cousins.
Besides her parents, she was predeceased by her husband of 37 years, Cyril; many aunts, uncles, and cousins; several in-laws.
The family will receive visitors 2-4 & 6-8 pm. Wednesday, February 22 in P. & K. MacDonald Funeral Home, New Glasgow, from where funeral service will be held 11 a.m. Thursday, February 23 in the chapel with Rev. Lee Sinclair officiating.
Donations may be made in Charlotte's memory to St. Bees' Anglican Church, Westville.
Funeral Service Livestream - please click HERE