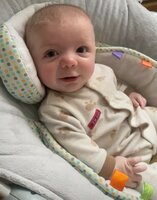 Malcolm Dorance MacLeod
Malcolm "Mooshy" Dorance MacLeod, 4-month-old son of Kaitlyn MacKenzie Scott and Kyle Eldon MacLeod passed away peacefully in his sleep, Tuesday, May 9, 2023.
Malcolm was a bright, energetic, strawberry blond boy who was always happy. His big brothers, Theo and Reese were eager to teach him new things. Malcolm's "big bright eyes never missed a trick". Although his family are broken hearted to have lost him so young, they are comforted in knowing that he is in the embrace of his great-grandpas, William, Mel and Dorance; aunts, and uncles.
Surviving besides his parents are his brothers, Theo and Reese; uncles, Riley Scott, Thorburn; Jamie MacLean (Kalen), Bridgewater; aunt, Brittney MacLeod (Denis), Egerton; maternal grandparents, Natasha and Chris Scott, Thorburn; paternal grandparents, Tracie and Glenn Rockey; maternal great-grandparents, Darlene and Fraser Kirwan, Linacy; maternal great-grandmother, Linda Scott, New Glasgow; paternal great-grandmother, Dorothy MacDonald, Egerton; maternal great, great-grandmothers, Joan Zinck, Linacy; Sylvia Kirwan, New Glasgow; godmother, Kyla Kirwan, Westville; many grand, great-grand, aunts and uncles; numerous cousins.
He was predeceased by his maternal great-grandfathers, Mel Scott; paternal great-grandfather, Lewis MacDonald; maternal great, great-grandfathers, Dorance Zinck and William Kirwan.
Thank you to Melissa Bates for being there when needed most.
A celebration of life for Malcolm will be held 11 a.m. – 1 p.m. Friday, May 12 at the home of his great-grandmother, Dorothy MacDonald.