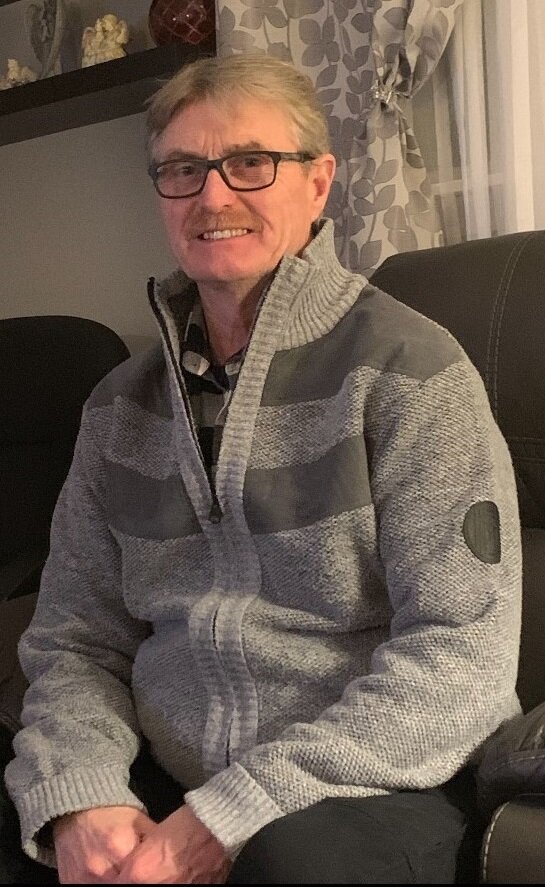 Share Your Memory of
Edmund


Obituary of Edmund Frederick Andrews
NEW GLASGOW – Edmund Frederick "Ed" Andrews, 62, New Glasgow, formerly of Heart's Desire, N.L., passed away, peacefully, Wednesday, July 20, 2022, in the VG Site, QEII, Halifax, surrounded by the love of his family, after very brief battle with Lymphoma.
Born in Heart's Desire, he was a son of the late Marcus and Ada Winnifred (LeDrew) Andrews. Ed was a Red Seal Plumber and Burner Technician, having been employed with Eastern Mainland Housing for the past 16 years. Previously, he was a home heating contractor with Irving Oil. Ed enjoyed camping, riding his motorcycle, dancing, and spending time in the outdoors. He "breathed" hockey, playing pick up, watching, or talking about it. In younger years, he played high school and senior hockey. When he could no longer play hockey, he learned to play the guitar and spent many enjoyable hours entertaining his family and friends. Ed cherished time spend with family and friends, especially his grandchildren. He will be dearly missed by those he loved.
Surviving are his wife, Mary Jean Graham; daughter, Krista (Dr. Robert) Fowler, St. John's, N.L.; son, Marcus Andrews, Conception Bay South, N.L.; grandchildren, Ava, Erika, Jonah, Hannah and Richell; step-son, Christopher Graham and his children, Maia, and Alex, Truro, and Johnathan, Halifax; sisters, Susie Regular, Heart's Content, N.L.; Annie (Mervin) Okum, Golden Lake, Ont.; Bernice (Gary) Vannatter, Kitchener, Ont.; Gwen Legge, St. John's, N.L.; Maxine (Dwayne) Rowe, Kitchener; brothers, Lewis (Eleanor) Andrews, Heart's Desire; Wilson (Lorraine) Andrews, Kitchener; David (Josie), Heart's Delight, N.L.; Tom (Joan) Andrews, St. John's; many nieces, nephews and cousins.
Besides his parents, he was predeceased sister, Jean Coombs; a brother, Derrick in infancy.
The family will receive visitors 10-10:50 a.m. Monday, July 25 in P. & K. MacDonald Funeral Home, New Glasgow from where funeral service will be held 11 a.m. with Rev. Dr. Glen Matheson officiating. A funeral service will be in Heart's Delight, N.L. at a later date, where he will be laid to rest with his parents.
Donations may be made in Ed's memory to The Leukemia and Lymphoma Society of Canada.
Visitation
10:00 am - 10:50 am
Monday, July 25, 2022
P & K MacDonald Funeral Home Limited Chapel
536 Merigomish Road , P.O. Box 215
New Glasgow, Nova Scotia, Canada
902-752-8866
Funeral Service Livestream
10:50 am - 11:45 am
Monday, July 25, 2022
P. & K. MacDonald Funeral Home Chapel
536 Merigomish Rd, P.O. Box 215
New Glasgow, Nova Scotia, Canada
902-752-8866
On this page, in the dark bar below the banner photo (motorcycle photo), please click on Tribute Links, and click "Funeral Service Livestream" - it will open up to the service page on YouTube.
Funeral Service
11:00 am - 11:45 am
Monday, July 25, 2022
P. & K. MacDonald Funeral Home Chapel
536 Merigomish Rd, P.O. Box 215
New Glasgow, Nova Scotia, Canada
902-752-8866
P & K MacDonald Funeral Home
536 Merigomish Road P.O. Box 215
New Glasgow, Nova Scotia B2H 5E3
P: (902) 752-8866
F: (902) 752-3537
E: info@pkmacdonald.ca