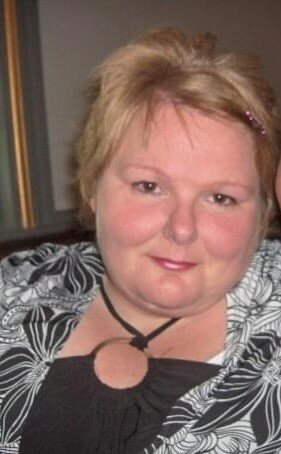 Share Your Memory of
Barbara "Bea"


Obituary of Barbara "Bea" Clyburne
TRENTON – Barbara Darlene "Barbie" "Bea" Clyburne, 48, Trenton, passed away Saturday, October 15, 2022, in the Aberdeen Hospital, New Glasgow, surrounded by her family.
Born in New Glasgow, she was a daughter of the late Robert Rexton Clyburne and Diane Agnes (MacAulay) (Clyburne) Perry and, stepdaughter of Phillip "Buck" Perry, New Glasgow. Barbie enjoyed the honor of being the "baby" in the family. Being smothered in love from the moment she was born. Throughout her life, Barbie returned this love to others, always there to help. She enjoyed crafting and "sister nights" – any activity that involved her family. All through her life she enjoyed cuddling babies and was overjoyed when she had her own children to love. Barbie leaves a rich legacy of love and devotion.
Surviving besides her parents are her husband, James Patrick "Jimmy" Lewis; children, Tyler Clyburne-Lewis, Shalyn Clyburne-Lewis and Logan Clyburne-Lewis, Trenton; siblings, Robert "Bobby" (Michelle) Clyburne, Pictou Landing; Nancy Patterson, Priestville; Mary (David) Jordan, Walkerville; Jessie O'Connor, Trenton; Debbie (Roger) Williams, Pugwash; Sharon (Brent) Cameron, Westville; Bobby (Michelle) Perry, Trenton; Pat (Michelle) Perry, Hamilton, Ont.; Phillip Perry, New Glasgow; mother-in-law, Dawn Matheson (John Lennon), Abercrombie; sister-in-law, Cecille Lewis, Abercrombie; brothers-in-law, Orrie (Angela) Darroch, Westville; Scott Kehoe, St. Albert, Alta.; numerous nieces, nephews and cousins.
Besides her father, Robert, she was predeceased by brothers-in-law, Wesley O'Connor and Danny Steeves.
The family will receive visitors 2-4 and 6-8 p.m. Tuesday, October 18 in P. & K. MacDonald Funeral Home, New Glasgow with cremation to follow.
The Clyburne and Lewis families wish to thank the Aberdeen Hospital nursing and support staff for the amazing care received.
Donations may be made in Barbie's memory towards the care of her children.
Visitation
2:00 pm - 4:00 pm
Tuesday, October 18, 2022
P & K MacDonald Funeral Home Limited
536 Merigomish Road , P.O. Box 215
New Glasgow, Nova Scotia, Canada
902-752-8866
Visitation
6:00 pm - 8:00 pm
Tuesday, October 18, 2022
P & K MacDonald Funeral Home Limited
536 Merigomish Road , P.O. Box 215
New Glasgow, Nova Scotia, Canada
902-752-8866
Hillside Cemetery
12:00 pm - 12:30 pm
Monday, November 28, 2022
Hillside Cemetery
27 Chance Harbour Road
Hillside, Nova Scotia, Canada
902-752-8166
P & K MacDonald Funeral Home
536 Merigomish Road P.O. Box 215
New Glasgow, Nova Scotia B2H 5E3
P: (902) 752-8866
F: (902) 752-3537
E: info@pkmacdonald.ca