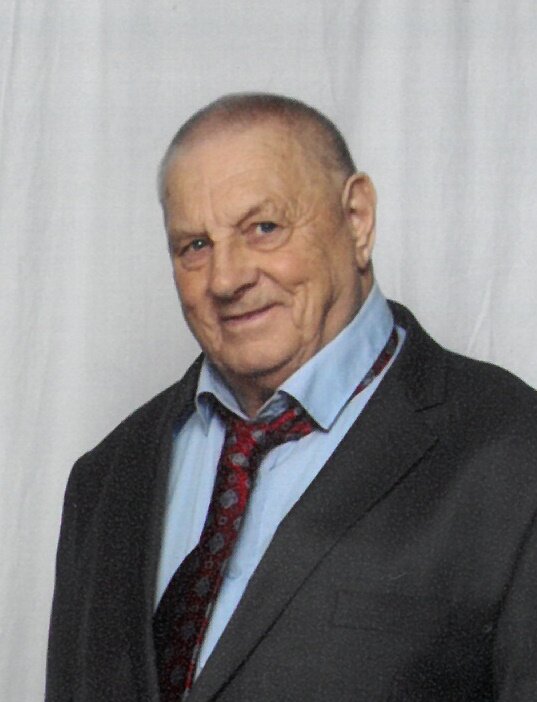 Share Your Memory of
Wilfred


Obituary of Wilfred John Rondelet
STELLARTON – Wilfred John "Willie" Rondelet, 93, Ivey's Terrace Nursing Home, Trenton, formerly of Stellarton, passed away Saturday, February 4, 2023.
Born in Westville, he was a son of the late Lawrence Murray and Alfredine Rondelet, and was raised by Alfred and Valentine Rondelet, together with their five daughters. Prior to retirement, he was employed with Micheline Tire, Granton in the Z Department. In earlier years, he had been employed with Scotsburn Dairy and the former L.E. Shaw Brickyard. He enjoyed hockey, baseball, broomball, hunting, fishing, playing Snooker and going for long drives. Throughout his life, Wille was known by several names, "Pops" and "Ole Man", however the most important to him was, "Dad". He was a charming, obliging and humble man who faithfully provided for his family.
Surviving are his daughters, Thelma Steele, New Glasgow; Barbara Rondelet (Vincent Weston), River John; Elizabeth Rondelet, Muskoka, Ont.; sons, Alfred (Maryann), Pictou; Wilfred John Jr., Pictou; Robert (Bernadette), Merigomish; Lawrence (Sherry), Pictou; Kirby (Cristie), Trenton; Tom (Chrissy), Scotch Hill; grandchildren, Alfred Jr, Adam, Carrie, Mary, Bobby, Cory, Sheri, Joanne, Kirby, Hayley, Kade, Laurie, Mitch, Danielle, Dave, Annie, Sara, Jordan, Sammy, Holly, Nick, Trevor, Megan, Katie, Wilfred Jr., Harlem, Elsie, Eugene, Glen, Tracey, Shelly, April, Alex, Nathan, Marleigh, Emily, Thomas Ray, Grace, Broidy, Danielle, Samantha, Baillie; great-grandchildren, Morgan, Emerson, Austin, Travis, Emily, Bradley, Yolanda, Tristian, Ethan, Max, Logan, Bentley, Paton, Chantelle, Kelsey, Jake, Sarina, Sila, Raymon, Nataliah, Hanna, Jayden, Tasiah, Gade, Jersey, Makayla, Angelica, Keegan, Bryce, Zoey, Lukas, Isabelle, Sadie, Ryah, Camden, Les, Hanna, Tara-Lynn, Sam, Marlie, Madi, Icelynn, Sawyer, Finn, Dominic, Ronan, Khloe, Adrian, Liam, Jack, Noah; great, great-grandchildren, Adalynn, Rosealee, Bella; siblings, Alfredine (Joe Butt), Beatrice (Cyril Connors), Valentine (Pat Joudrie), Josephine (Cotton Stewart) and Angie (Felix Zugay); many nieces and nephews.
Besides his parents, he was predeceased by his wife, Marion Elizabeth (Langille) Rondelet; sons, William and Raymon; grandson, John Robert,
The family will receive visitors 10 – 10:50 a.m. Thursday, February 9 in P. & K. MacDonald Funeral Home Chapel, New Glasgow from where funeral service will be held 11 a.m. with Rev. Charles McPherson officiating. Interment will be in Seaview Cemetery, Bayview.
The Rondelet wish to express their gratitude to the Ivey's Terrace staff for the wonderful care Wilfred received.
No flowers please. Donations may be made Willie's memory to the IWK Foundation.
"The man with the gentle face in his youth kept a hectic pace providing for his family with grace."
Visitation
10:00 am - 10:50 am
Thursday, February 9, 2023
P & K MacDonald Funeral Home Limited Chapel
536 Merigomish Road , P.O. Box 215
New Glasgow, Nova Scotia, Canada
902-752-8866
Funeral Service
11:00 am - 11:45 am
Thursday, February 9, 2023
P. & K. MacDonald Funeral Home Chapel
536 Merigomish Rd, P.O. Box 215
New Glasgow, Nova Scotia, Canada
902-752-8866
Committal Service
12:30 pm - 12:45 pm
Thursday, February 9, 2023
Seaview Cemetery
Pictou
Pictou, Nova Scotia, Canada
P & K MacDonald Funeral Home
536 Merigomish Road P.O. Box 215
New Glasgow, Nova Scotia B2H 5E3
P: (902) 752-8866
F: (902) 752-3537
E: info@pkmacdonald.ca