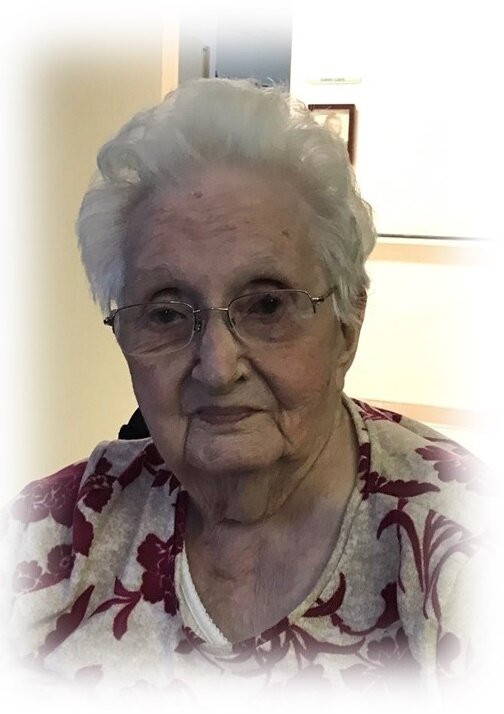 Share Your Memory of
Janet


Obituary of Janet MacLean
Janet MacLean, 105, Valley View Villa, Riverton, formerly of Foxbrook Road, Westville, passed away, Sunday, April 2, 2023. in the Villa.
Born on March 24,1918 in Westville, she was a daughter of the late John Harvry and Alice Edna (Taylor) Marshall. She was a member of St. Andrews Presbyterian Church, Westville, 70-year member of the Bessie Munroe A.M.S. and a life member of the Barbara MacKenzie Auxiliary. She was a wonderful grandmother who enjoyed spending time with her grandchildren and great-grandchildren. Janet was a top-notch baker. She was known for her doughnuts at the annual church bazaar and her pies were unrivalled, particularly her lemon meringue. Janet spent many hours baking with her grandchildren, teaching them to make pies, cakes, and a variety of Christmas goodies. Her divinity fudge was a memorable annual treat. She was devoted to her family and always made sure to have a lovely meal prepared when they came to visit. In addition to baking, Janet enjoyed knitting, crochet, quilting and other crafts. She created many beautiful quilts that her family will treasure for years to come. She also put her crafting skills to good use, making tiny hats for premature babies and blankets and vests to send to children in need overseas. Janet also had an incredible memory and was as sharp as a tack, well into her 90's. She could be counted on to remember many family stories and had a great ability to recall names and details of past events. Her stories will live on through her daughters, grandchildren, and great-grandchildren.
Surviving are daughters, Evelyn MacLellan, New Glasgow; Alice (Thom) Cochrane, Vaughn; Murdena Dupont, Halifax; grandchildren, Krista MacLellan, Colin Cochrane, Kyla MacLellan (Daren Smith), Roger Cochrane (Kelda Smith), Carolyn Dupont-Cole (Travis) and Natalie Dupont (Alex Overby); great-grandchildren, Callum, William and Jack Smith, Wyatt Cole.
Besides her parents, she was predeceased by her husband of 57 years, Murdock Alex MacLean; sister, Hilda Willis; brother-in-law, James Willis.
Funeral service will be held 2 p.m. Sunday, April 9 in St. Andrews Presbyterian Church, Westville with Rev. Gail Johnson Murdock officiating. Interment will be in Auburn Cemetery.
Family flowers only. Donations may be made in Janet's memory to St. Andrews Presbyterian Church, Westville, or Valley View Villa Recreation Fund.
Janet's family would like to thank the staff of Valley View Villa 2nd Floor for the care and kindness that they have shown us all for the last five plus years.
Funeral Service
2:00 pm - 2:30 pm
Sunday, April 9, 2023
St. Andrews Presbyterian Church
2011 Church Street
Westville, Nova Scotia, Canada

Get Directions
Auburn Cemetery
3:00 pm - 3:10 pm
Sunday, April 9, 2023
Auburn Cemetery
2509 North Street
Westville, Nova Scotia, Canada

Get Directions
P & K MacDonald Funeral Home
536 Merigomish Road P.O. Box 215
New Glasgow, Nova Scotia B2H 5E3
P: (902) 752-8866
F: (902) 752-3537
E: info@pkmacdonald.ca