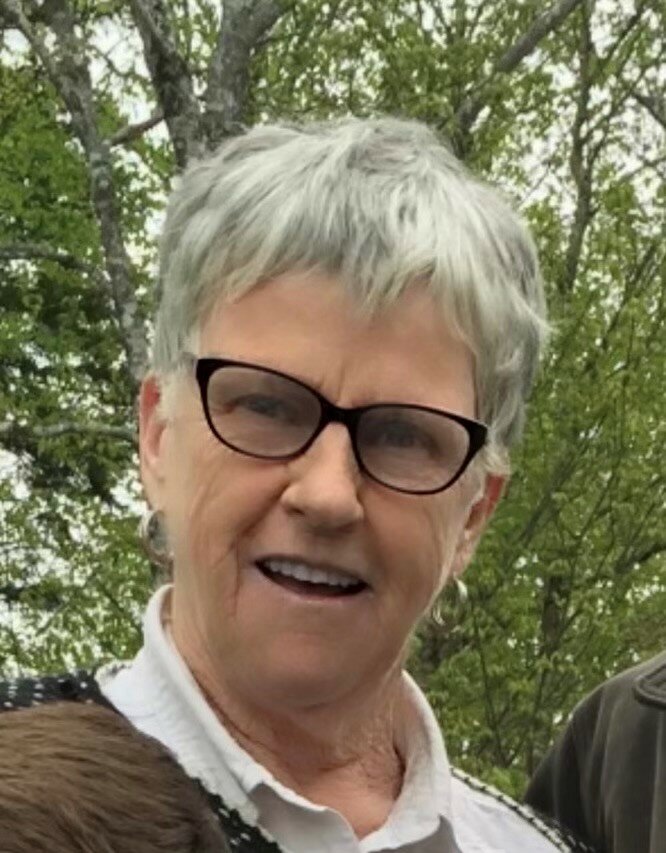 Obituary of Tat MacKinnon
Catherine Mary "Tat" MacKinnon, 76, passed away peacefully Saturday, April 22, 2023, in Green Meadows Residence, North Grant with her loving family by her side.
Born in Big Marsh, she was a daughter of the late Joseph and Agnes (MacLellan) MacDonald, the "Gows" of Big Marsh. Tat was a school bus driver for more than 25 years. She was a member of the Pictou County RCMP Crime Prevention Committee for many years, receiving an award for her volunteer efforts in the community. As a child, she enjoyed most athletic activities, which continued in her later life as an avid walker, and she always enjoyed watching her grandkids play sports. She took pride in keeping her and John's property in Lismore well maintained, was always up for a good time, and was known to bake a few lemon meringue pies in her day and a wicked bowl of lobster chowder. Tat and Johnny, with no hesitation, became "parents" once again with the unexpected passing of Nicole. Morgan "the OG", gave Tat and Johnny a new lease on life and they were more than happy to raise, yet another girl, in Lismore.
Surviving are her daughters, Linda (Jeff) Speedy, Fredericton, N.B.; Johnanne (Mark) Lohnes, Hammonds Plains; grandchildren, Morgan (Mitchell) Collins, Lismore, Brett, Kylee, Grady, and Kinnon; sisters: Florence (John) Kennedy, Lanark; Patricia (Gordie) MacKinnon, Lismore; Agnes (Starr) MacMullin, Bedford; Ann Marie and Marion MacDonald, Antigonish; Joan (Tim) Gilfoy, William's Point.
Besides her parents, Tat was predeceased by her husband John; daughter, Nicole; brothers, Donnie, Kenny and Jimmy.
The family would like to thank the incredible staff at Green Meadows for taking such good care of Tat over the past few years. They extend a special thank you to Trina Chisholm, Tat's niece, for always being there for Tat.
The family will receive visitors 2-4 and 6-8 p.m. Thursday, May 4 in P. & K. MacDonald Funeral Home, New Glasgow. Mass of Christian burial will be held at 11 a.m. Friday, May 5 in St. Mary's Roman Catholic Church, Lismore with Father Colin MacKinnon presiding. Burial will be in the parish cemetery.
Donations may be made in Tat's memory to St. Mary's Roman Catholic Church, Lismore or Alzheimer Society of Nova Scotia.
P & K MacDonald Funeral Home
536 Merigomish Road P.O. Box 215
New Glasgow, Nova Scotia B2H 5E3
P: (902) 752-8866
F: (902) 752-3537
E: info@pkmacdonald.ca