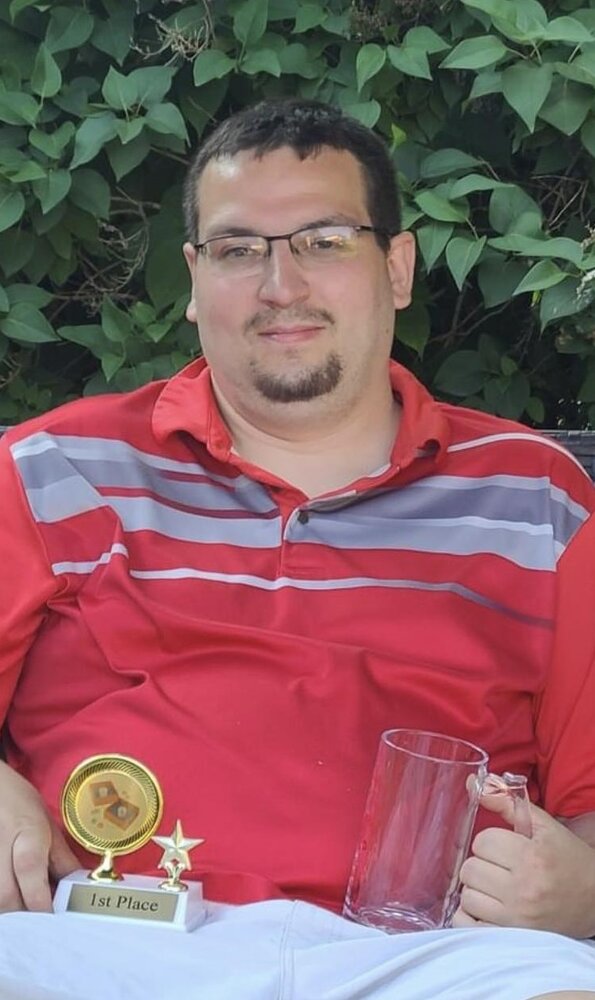 Share Your Memory of
James


Obituary of James Gerald Pyche
James Gerald Pyche, 37, Trenton, passed away Sunday, September 10, 2023, in Aberdeen Hospital, New Glasgow, surrounded by family and friends, following a minor accident.
Born in New Glasgow, he was a son of William Lewis and Rhonda Lynn (Phalen) Pyche. James was employed with Michelin Tire, Granton. He was an active member of the New Glasgow Kinsmen Club, where he had served as President. James thoroughly enjoyed being a Kinsmen – he thought of them as his second family. He was an avid pool player, playing in various pool leagues at the Rack & Cue. James enjoyed playing golf and basketball, which allowed him to do "two things at once"- play and spend time with friends. He held the family, Paul MacNeill Annual Washer Toss Tournament, championship title for the past four years. James enjoyed giving back to his community and coached the Trenton Middle School girls' basketball team for several years and assisted other teams. He was a very social person, best described by family as a "friend to many", whether he was bouncing at a club, coaching, serving with the Kinsmen or gaming online, he possessed a "magnetic personality" and attracted many friends. To his family and close friends, he was "perfect". Respected for his truthfulness and positive outlook on life. James cherished his family and spending time with them. He was "more than a brother" to Luke, he was a "big brother advisor", best friend and mentor. James was dependable and trustworthy, strong but gentle, humble, and kind. He was the "go to guy". James was always "there to help others" and at his passing has donated his organs to help others and to further medical science research. He will be remembered as a hero and in many other wonderful ways by those he loved. Although his family is heartbroken, they are comforted to know that James is giving someone else the gift of sight.
Surviving are his parents, William Lewis, and Rhonda Lynn (Phalen) Pyche, Trenton; brother, Lucas Pyche (aka. Luke Phalen), Trenton; maternal grandmother, Yvonne "Sally" (Morrison) Phalen, Westville; maternal aunts, Deanie Phalen (Ralph), Trenton; Sheila MacNeil (Paul), Trenton; Shari (Mark) MacDonald, Trenton; paternal aunts, Judy (John) Raniowski, New Glasgow; Rosemarie (Greg) Simms, Burlington, Ont.; paternal uncles, David Peitzsche, New Glasgow; Joe (Viviana) Pyche, Burlington; George "Pat" Windsor, Chance Harbour; cousins, Tommy, Aaron, "little sister" Alaura, Nathaniel, Markus, Christopher, Ryan, Shalyn, Steven, Michael, Jaun and Crystal; "friends like brothers", Mike Currie, Tony Hessian, JT Dorrington-Sheppard, Ryan Barnett, Logan MacLean and Cory Mailman.
He was predeceased by his maternal grandfather, Thomas Gerald Phalen; paternal grandparents, James Ainsley and Rose Ann (Emberly) Peitzsche; paternal aunt, Brenda (Peitzsche) Windsor.
A Celebration of Life will be held from 2-5 p.m. Saturday, September 30 in the Stellarton Fire Hall, followed by an "Ole Fashion Kitchen Party" from 5-10 p.m..
The family of James wish to thank the ESH paramedics, Aberdeen Hospital, Emergency and ICU department staff. Special thank you to Dr. Straub and Dr. Fahim.
In honor of James, please consider signing your donor card, so that someone else may live.
"May you walk the streets of gold with Rio"
Love mom, dad and Luke
Celebration of Life
2:00 pm - 5:00 pm
Saturday, September 30, 2023
Stellarton Fire Hall
8 Jubliee Ave
Stellarton, Nova Scotia, Canada

Get Directions
"Ole Fashion Kitchen Party"
5:00 pm - 10:00 pm
Saturday, September 30, 2023
Stellarton Fire Hall
8 Jubliee Ave
Stellarton, Nova Scotia, Canada

Get Directions
P & K MacDonald Funeral Home
536 Merigomish Road P.O. Box 215
New Glasgow, Nova Scotia B2H 5E3
P: (902) 752-8866
F: (902) 752-3537
E: info@pkmacdonald.ca