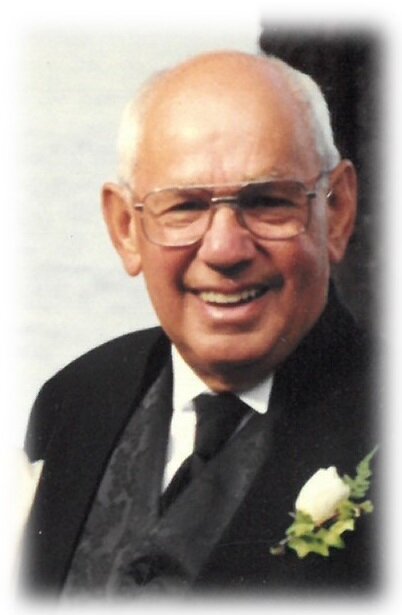 Share Your Memory of
Albert


Obituary of Albert Joseph Allen
Albert Joseph Allen, 93, died on October 23, 2023, at Valley View Villa in Riverton, Nova Scotia, with family by his side.
He was born July 2, 1930, in Loch Broom, Nova Scotia, the son of Joseph and Jessie W. (Muir) Allen. Albert was a long-time resident of Stellarton, with his wife Jessie (Lockhart).
His early years were spent on a dairy farm in Loch Broom, traveling to Stellarton by train to go to school and, later, to work in the family business, Allen's Dairy.
After the dairy was sold, he worked in refrigeration, ending his working days at the Michelin Tire plant in Granton.
Dad was a carpenter, a handyman, a nature-lover, a sports fan and a keen reader. He had a gift for connecting with people of all ages and could always find someone ready to chat.
For many years, he was a fixture at the Abercrombie Golf Club and at the YMCA, where golfing and working out were secondary to the main goal of spending time with friends and catching up on the local news.
He may have enjoyed the company of animals even more than people. There was always at least one cat in his life and often a dog as well.
He loved his time in the outdoors, whether he was fishing, skating, skiing, golfing, mowing his lawn, or sitting on the deck (coffee in hand) enjoying the view at King's Head.
Most of all, he loved his family. He and Jessie were constant companions, traveling the roads of Pictou County and the highways and airways to and from Nanaimo, BC. They spent countless hours together in hockey rinks, at ball fields, and at Tim Hortons.
In the 80's, he and Jessie had the foresight to buy a run-down little cottage on the beach, which they transformed into a welcoming gathering place for family and friends. We will forever cherish the memories of our beach days at Kings Head.
In his eyes, his children could do no wrong (mostly). He had special relationships with their partners, Philip, Samantha and Ursula. But it was his grandchildren who were his greatest joy. They didn't have a "Grandpa"; they had an "Albert" who cheered them on and celebrated every accomplishment.
He is survived by his children: Susan (Philip Murphy), Halifax; Joseph/Jody (Ursula Emond), New Glasgow; and Peter (Samantha) Nanaimo, BC. and by his grandchildren: Rowan and Benjamin Murphy, Halifax and Jessie and Brady Allen, Nanaimo, BC. He will be missed by sister-in-law Joan Lockhart, brother-in-law Donald Murray, many nephews and nieces and close friends.
He was predeceased by his wife of 57 years, Jessie (Lockhart), and sister Morag Murray. He was also predeceased by sister-in-law Marguerite Lockhart, brothers-in-law Edwin and Allison Lockhart, and nephew Allison.
Visitation will be held on Saturday, November 4th from 2 to 4 p.m., at P. & K. MacDonald Funeral Home, 536 Merigomish Road, New Glasgow.
Lovingly submitted by family.
P & K MacDonald Funeral Home
536 Merigomish Road P.O. Box 215
New Glasgow, Nova Scotia B2H 5E3
P: (902) 752-8866
F: (902) 752-3537
E: info@pkmacdonald.ca