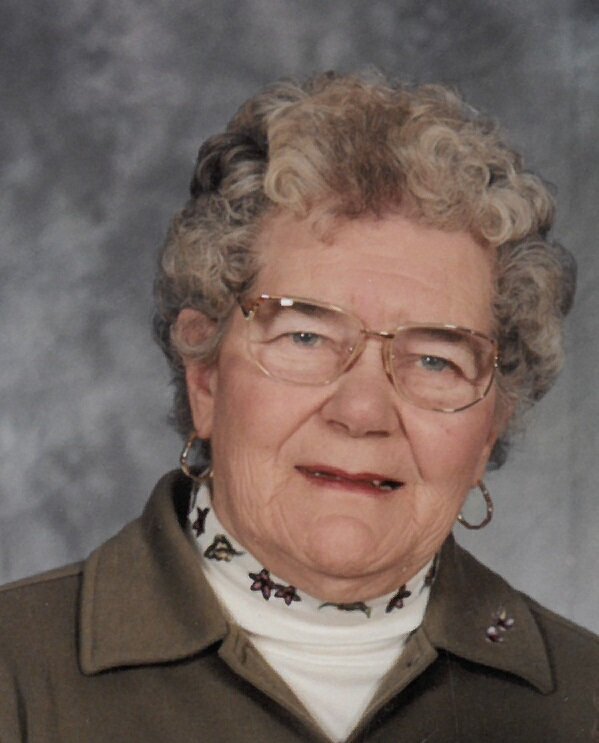 Share Your Memory of
June


Obituary of June Catherine MacDonald
THORBURN – June Catherine MacDonald, 91, Thorburn, passed away peacefully, Wednesday, December 28, 2022, in the Aberdeen Hospital, New Glasgow surrounded by the love of her family.
Born in Truro, she was a daughter of the late Basil O'Connell and Laura (Hingley) (Richards) Matheson. June resided in Kemptown until the age of 10 when she and her family moved to Thorburn. She was a member of the former St. Ann's Roman Catholic Church, Thorburn where she taught Sunday school and served with the CWL for over 50 years, obtaining her Maple Leaf pin. Following the closing of St. Ann's, she became a faithful member of The Church of the Holy Name, Westville. In earlier years June worked at the former McCarron's Tea Room, New Glasgow and in the laundry department at the former Norfolk Hotel, New Glasgow. She was employed as a janitor at the former White School, Thorburn and prior to retirement was a supervisor at Thorburn Consolidated School for over 20 years. June enjoyed her time at Thorburn Consolidated and was very proud of her nickname, "June Bug".
Over the years, she enjoyed swimming at Big Island and was swimming in the ocean eight times this past summer. June and her daughter, Laurie, traveled together to Ontario in the 70's and with her husband, Harold, to British Columbia several times over the years. She and her husband, Harold enjoyed her two trips to Hawaii and in their 80's, two trips to Florida with Harold's sister, Kaye and her family. June was a domestic "Queen" making clothing and curtains, knitting, crocheting, baking, cooking, making preserves and doing odd jobs around the home. June enjoyed fishing and dancing, well in to her 70's. For June, "Life has changed; not ended!"
Surviving are her daughter, Laurie (Ken) Reid, West River; sons, David (Kathy), Surry, B.C.; George, Thorburn; Henry, Thorburn; grandchildren, Shannon, Troy, Christopher, Leah, Shaun and Liam; great-grandson, Bentley; brother, Floyd Richards, Calgary, Alta.; several nieces and nephews.
Besides her parents, she was predeceased by her husband of 52 years, Harold Earl MacDonald; son, Barry; sister, Jeannine Bryden; brothers, Burton and Curtis Richards.
The family will receive visitors 2-4 p.m. Monday, January 2 in P. & K. MacDonald Funeral Home, New Glasgow. Mass of Christian Burial will be held 11 a.m. Tuesday, January 3 in the Church of the Holy Name, Westville with Father Bernard MacAdam presiding. Spring interment will be in St. Ann's Cemetery, Thorburn.
June's family wish to thank the Pictou County VON staff for the loving care they provided her for many years and the Aberdeen Hospital Palliative Care Unit staff for their kindness and compassion.
Donations may be made in June's memory to Aberdeen Health Foundation Palliative Care Endowment.
Ode to a Capable Wife
A capable wife who can find?
She is far more precious than jewels.

The heart of her husband trusts in her,
and he will have no lack of gain.

She does him good, and not harm,
all the days of her life.

She seeks wool and flax,
and works with willing hands.

She is like the ships of the merchant,
she brings her food from far away.

She rises while it is still night
and provides food for her household
and tasks for her servant-girls.

She considers a field and buys it;
with the fruit of her hands she plants a vineyard.

She girds herself with strength,
and makes her arms strong.

She perceives that her merchandise is profitable.
Her lamp does not go out at night.

She puts her hands to the distaff,
and her hands hold the spindle.

She opens her hand to the poor,
and reaches out her hands to the needy.

She is not afraid for her household when it snows,
for all her household are clothed in crimson.

She makes herself coverings;
her clothing is fine linen and purple.

Her husband is known in the city gates,
taking his seat among the elders of the land.

She makes linen garments and sells them;
she supplies the merchant with sashes.

Strength and dignity are her clothing,
and she laughs at the time to come.

She opens her mouth with wisdom,
and the teaching of kindness is on her tongue.

She looks well to the ways of her household,
and does not eat the bread of idleness.

Her children rise up and call her happy;
her husband too, and he praises her:
"Many women have done excellently,
but you surpass them all."

Charm is deceitful, and beauty is vain,
but a woman who fears the Lord is to be praised.

Give her a share in the fruit of her hands,
and let her works praise her in the city gates.
Proverbs 31:10-31 (NRSVCE)
Visitation
2:00 pm - 4:00 pm
Monday, January 2, 2023
P & K MacDonald Funeral Home Limited
536 Merigomish Road , P.O. Box 215
New Glasgow, Nova Scotia, Canada
902-752-8866
Mass of Christian Burial
11:00 am - 12:00 pm
Tuesday, January 3, 2023
Church of The Holy Name
1664 North Main Stree
Westville, Nova Scotia, Canada
902-396-4012
P & K MacDonald Funeral Home
536 Merigomish Road P.O. Box 215
New Glasgow, Nova Scotia B2H 5E3
P: (902) 752-8866
F: (902) 752-3537
E: info@pkmacdonald.ca