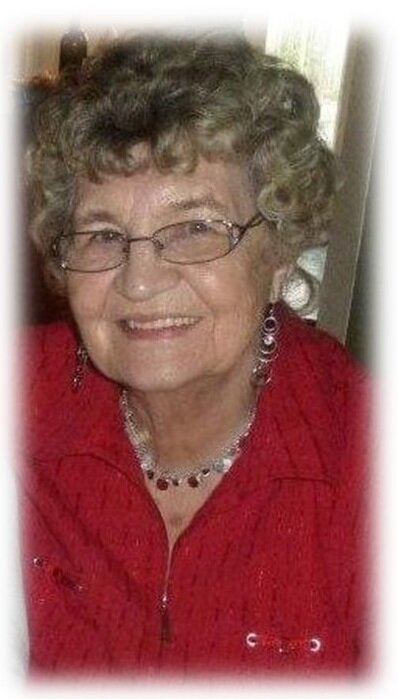 Share Your Memory of
Dorothy


Obituary of Dorothy Mae Morrison
Dorothy Mae (James) Morrison, 89, Thorburn, passed away peacefully, Tuesday, July 18, 2023 in the Aberdeen Hospital, New Glasgow, surrounded by her family.
Born in MacPhersons Mills, she was the oldest daughter of the late Albert and Julia (Ermenc) James. All of her elementary schooling days were attended in Thorburn. Grades 10, 11 and 12 were attend at the former New Glasgow High School from where she graduated. She loved going to school and learning and was very proud that she never missed a day in nine years. Being a widow at 26, she went back to school in order to support her four children. She became a schoolteacher and taught for 31 years – loving every minute. Her hobbies were, first of all, dancing, gardening, and quilting – having made quilts for her children and grandchildren. She enjoyed singing and sang with the Celtic Cords for a number of years. Dorothy was a faithful member of Union Presbyterian Church, Thorburn where she served on the Board of Managers, Ladies Guild and Choir for many years. Dorothy considered her 2009 trip to Solvenia to be a highlight of her life. She, along with Joe, daughter, Wendy, her siblings, and nephew visited her mom's family home and met many family members. She very grateful to have met her cousin with whom she was a pen pal for over 30 years. Dorothy will be forever remembered and loved by her family. They describe her as, "loving", "kind", "forgiving", "a phone book", "glue the held everything together", "best cook and baker", "strong – a fortress in time of need", and "a virtuous woman".
Surviving are her husband, best friend and love of her life for 44 years, Joseph Edward "Joe" Morrision; children, Julia (Lawrence) Hall, Churchville; Colin (Mary) Sartoris, Calgary, Alta.; Gary (Brenda) Sartoris, Hampton, Ont.; Wayne (Janine) Sartoris, Winnipeg, Man.; Wendy (Alex) Donley, Alma; Wylie "Bopper" (Wanda) Sartoris, Springville; step-daughter, Kathy (Lauren) Hine, High Level, Alta.; grandchildren, Gordon (Amanda), Ashley (Jonathan), Matthew (Lisa), Jenna (Chriss), Nicole (Adam), Chris (Michelle), Chantal (Ryan), Celine; Tyler, Shaila (Carson) and Devynn (Colton); step-grandchildren, Alannah (Tyler) and Chris (Marissa); great-grandchildren, Emily (Nevan), Nathan (Maddie), Ava, Ella, Stella, Domienico, Marcello, Stella, Giovanna, Victoria, Maria, Luca, Oliver, Edward and Aubrey; step-great-grandson, Jason; sisters, Minnie Sartoris, Thorburn; Mary Harned (Vince), St. John, N.B.; Rose MacEachern, Stellarton; Bertha (Jim) Simpson, Calgary, Alta.; brothers, Larry (Jelly), Stellarton; Herbie (Sherry), Thorburn; sisters-in-law, Colleen James, Stellarton; Maria James, Stellarton; Laura Mae James, Burlington, Mass.; Agnes (John) Smith, Westville Road; Josephine Lindsay, Kingston, Ont.; Christina Badger, Middleton, Ont.; brothers-in-law, Billy Swallow, Thorburn; Bill (Betty) Morrison, Oshawa, Ont.; numerous nieces and nephews.
Besides her parents, she was predeceased by her first husband, Gordon Sartoris; grandchildren, Justin Sartoris MacDonald, John Gregory Greencorn and Preston Sartoris; sisters, Helen Stewart, Julie Sartoris and Annie Swallow; brothers, Johnny, Andrew and Alex; sisters-in-law, Elizabeth James, Sarah Ferguson and Marybelle Rice; brothers-in-law, Chalmers Stewart, Lloyd Sartoris, Donnie MacEachern, Lawson Sartoris and John Morrison; several nieces and nephews.
The family will receive visitors 2-4 and 6-8 p.m. Friday, July 21 in P. & K. MacDonald Funeral Home, New Glasgow. Funeral service will be held 11 a.m. Saturday, July 22 in Union Presbyterian Church, Thorburn with Mr. John Reeves officiating. Interment will be in Thorburn Cemetery.
Donations may be made in Dorothy's memory to the Union Presbyterian Church or The Thorburn Cemetery Association.
P & K MacDonald Funeral Home
536 Merigomish Road P.O. Box 215
New Glasgow, Nova Scotia B2H 5E3
P: (902) 752-8866
F: (902) 752-3537
E: info@pkmacdonald.ca